Page 10 - documentation_package
P. 10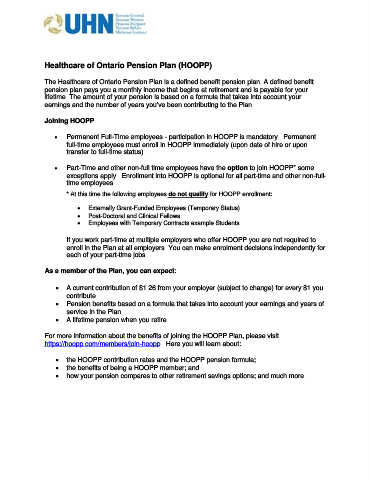 Healthcare of Ontario Pension Plan (HOOPP)


               The Healthcare of Ontario Pension Plan is a defined benefit pension plan. A defined benefit
               pension plan pays you a monthly income that begins at retirement and is payable for your
               lifetime. The amount of your pension is based on a formula that takes into account your
               earnings and the number of years you've been contributing to the Plan.

               Joining HOOPP


                     Permanent Full-Time employees - participation in HOOPP is mandatory.  Permanent
                       full-time employees must enroll in HOOPP immediately (upon date of hire or upon
                       transfer to full-time status).

                     Part-Time and other non-full time employees have the option to join HOOPP* some
                       exceptions apply.  Enrollment into HOOPP is optional for all part-time and other non-full
                       time employees

                       * At this time the following employees do not qualify for HOOPP enrollment:

                             Externally Grant Funded Employees (Temporary Status)
                             Post-Doctoral and Clinical Fellows
                             Employees with Temporary Contracts example Students

                       If you work part-time at multiple employers who offer HOOPP you are not required to
                       enroll in the Plan at all employers. You can make enrolment decisions independently for
                       each of your part-time jobs.

               As a member of the Plan, you can expect:


                     A current contribution of $1.26 from your employer (subject to change) for every $1 you
                       contribute.
                     Pension benefits based on a formula that takes into account your earnings and years of
                       service in the Plan.
                     A lifetime pension when you retire.

               For more information about the benefits of joining the HOOPP Plan, please visit
               https://hoopp.com/members/join-hoopp.  Here you will learn about:

                     the HOOPP contribution rates and the HOOPP pension formula;
                     the benefits of being a HOOPP member; and
                     how your pension compares to other retirement savings options; and much more.