Page 1 - International Learners Welcome Package
P. 1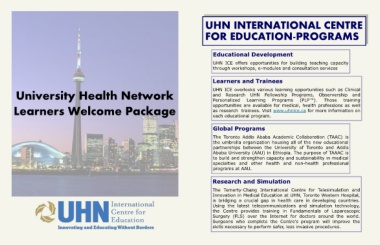 University Health Network  UHN INTERNATIONAL CENTRE
Learners Welcome Package   FOR EDUCATION-PROGRAMS

                               Educational Development

                                UHN ICE offers opportunities for building teaching capacity
                                through workshops, e-modules and consultation services

                               Learners and Trainees

                                UHN ICE overlooks various learning opportunities such as Clinical
                                and Research UHN Fellowship Programs, Observership and
                                Personalized Learning Programs (PLPâ"¢). Those training
                                opportunities are available for medical, health professions as well
                                as research trainees. Visit www.uhnice.ca for more information on
                                each educational program.

                               Global Programs

                                The Toronto Addis Ababa Academic Collaboration (TAAC) is
                                the umbrella organization housing all of the new educational
                                partnerships between the University of Toronto and Addis
                                Ababa University (AAU) in Ethiopia. The purpose of TAAAC is
                                to build and strengthen capacity and sustainability in medical
                                specialties and other health and non-health professional
                                programs at AAU.

                              Research and Simulation

                                The Temerty-Chang International Centre for Telesimulation and
                                Innovation in Medical Education at UHN, Toronto Western Hospital,
                                is bridging a crucial gap in health care in developing countries.
                                Using the latest telecommunications and simulation technology,
                                the Centre provides training in Fundamentals of Laparoscopic
                                Surgery (FLS) over the Internet for doctors around the world.
                                Surgeons who complete the Centre's program will improve the
                                skills necessary to perform safer, less invasive procedures.